Nathan James | Chief Mastering Engineer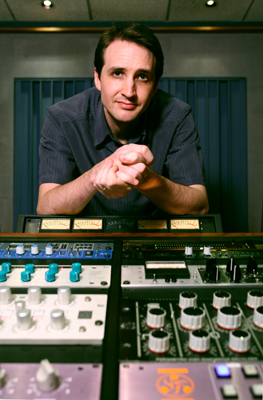 "A musician's mastering engineer."

Those are the words we hear most often when clients speak about their experience mastering their albums with Nathan...and it's fitting. In one corner of his mastering suite is his cello, in the other, his mandolin. He holds a music degree from the prestigious Cleveland Institute of Music and honed his sound chops engineering recordings for Yo-Yo Ma's Silk Road Ensemble, Dave Brubeck, John Pizzarelli, Andre Previn, Boston Pops, and the Boston Symphony Orhcestra.
His devotion to the art of sound recording and his early engineering accomplishments landed him an opportunity to work with the team of crack engineers at New York City's Classic Sound (Scott Hull, Tim Martyn, Tom Lazarus). There he assisted on hundreds of albums including projects for John Mayer (Room For Squares), Anoushka Shankar (Live at Carnegie Hall), Garbage (Garbage 2.0), Dave Douglas (Freak In) and the Gypsy Kings.
Several years later, Nathan joined the crew at The Hit Factory Mastering Studios mastering music for acts such as The Bravery, Charlie Hunter, and The Fray. This stint began his mastering service's relationship with the regional New York City music scene, a relationship that continues to thrive today.
After The Hit Factory was laid to rest, Nathan moved to a mastering studio called Jigsaw Sound, where he fine-tuned his mastering technique and in the process, built up a loyal and musically diverse client base in New York, the US and throughout the world.
Nathan created The Vault Mastering Studios in late 2006 so that he could deliver a vision to his clients; a comfortable and creative musical space that catered primarily to independent musicians and mixing engineers/studio owners, cutting not a single corner in terms of mastering technology and those immensely important free-flowing lines of communication. Fortunately, that vision clicked and Vault Mastering has since enjoyed a steady flow of great records, interesting artists, and many unique mastering experiences.
Nathan can now be found mastering records out of his new mastering studio in the Phoenix area. See pictures of the new studio here. Arrangements for attended sessions in New York can be made with two months of notice.
Get a Quote for Mastering with Nathan
What Nathan's clients are saying...
Client Testimonials
Shaun Michael Poore - pianist
"Nathan was absolutely fantastic to work with both on a personal and professional level. He gave me what I envisioned the mastered album to sound like and was readily available to listen to my requests and concerns. I'm working on a 2nd album and will hands down work with him again. Thanks mate!"
8 Keys
"What a great experience working with the Vault! Nathan was very perceptive and extremely skilled in raising the quality of the release to a very high standard. My sincere gratitude. We will be seeing you again soon for the next one!
"
John Medeski
"Not only did Nathan do an incredible job mastering, but without a molecule of ego, he produced three different masters for us, each meeting a completely different need. He understood what we were going for and pulled it off while maintaining the highest level of sonic quality."
Making Change
"Our CD came out sounding great and Nathan was very helpful and responsive throughout the entire project, couldn't have asked for a better experience!"
Darren English
"We are all awestruck at how good it sounds! I always expect the best from you, but this one has a special warm quality that makes the very diverse musical selections on the album hang together quite well. Darren was really pleased with the way his trumpet sounds and it's impossible to not notice how well everyone is imaged - the bass and trumpet in particular."
Harmonic Tremor
"In one word, fantastic! The quality of the work is amazing, our album now sounds like we always wanted it to. "
Watering Can
"Nathan was fantastic. Easy to work with, punctual, thorough, and personable. Would definitely recommend to others, and use again myself!"
Korsak
"Nathan was everything and more than what we expected in an engineer. He welcomed us into his studio and went way above his duties in the work and advice he gave us for the album. We left the studio confident in knowing that Nathan helped to create the sound we were hoping for and we are honored to have had him be a part of the record"
New York Horns
"Nathan did a fantastic job on our newest release! We couldn't be happier with the results, and his willingness to work with us to put everything in a great sonic space was exceptional. We sincerely appreciated Nathan's ear and musicality in the choices he made for our mastering - he brought a new and fresh dimension to the music. THANK YOU!"
STL EP
"In the 13 years that I've been performing and recording music, this is the best mastering engineer I've worked with thus far. Not only was he able to make the fixes and adjustments that I requested, he intuitively improved a host of other aspects of the mixes. I plan on using Vault for all my future projects."